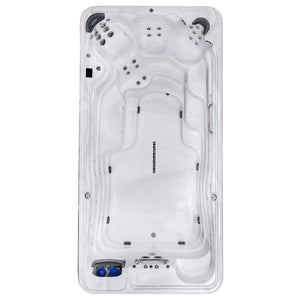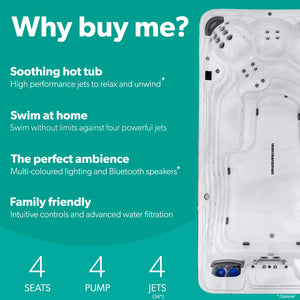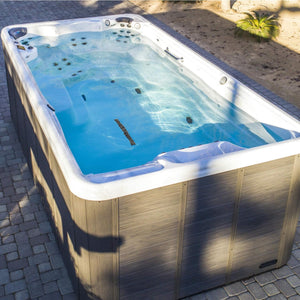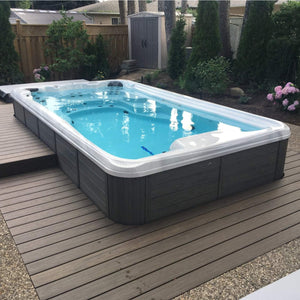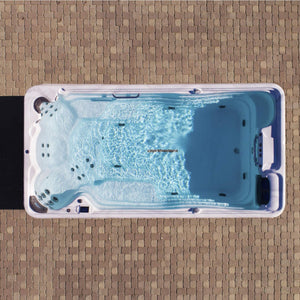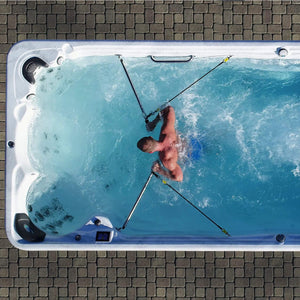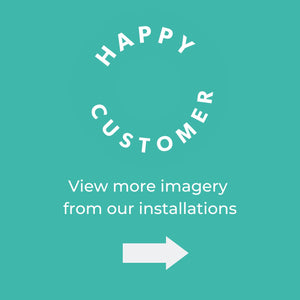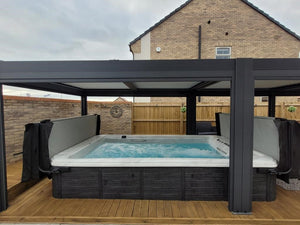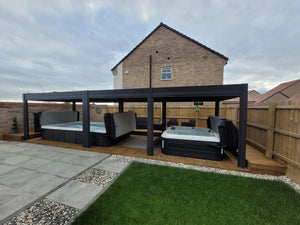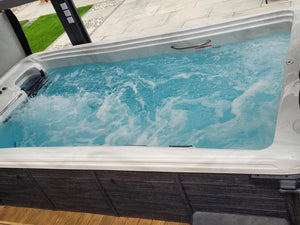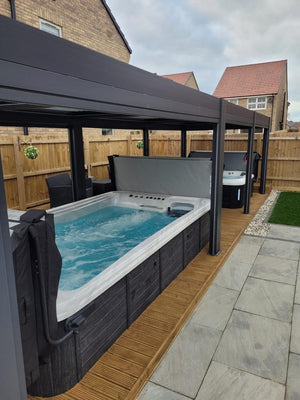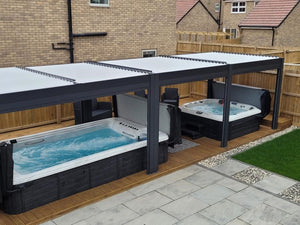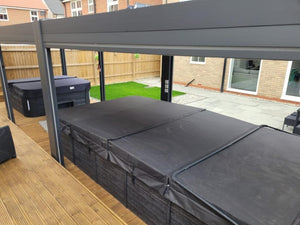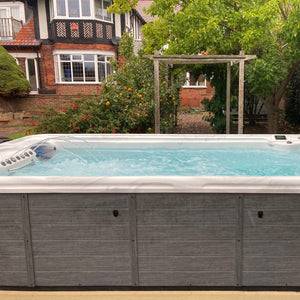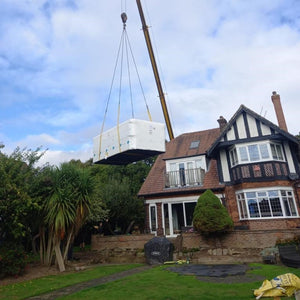 TidalFit Pro EP-15 - 15ft Swim Spa
Features we love
Spacious 6-seater swim spa with quad swim jets
Use as a training pool and relaxing spa in one
Includes two grab rails for extra stability or stretching
Comes with a spa light that illuminates your pool
It's a great family pool for teaching kids to swim
Tech spec
Seats 6 people
15ft swim spa
457cm x 231cm x 152cm
34 Helix Hydrotherapy Jets (Optional)
Quad adjustable swim jet system
2 2HP pump 
2 x 18" Grab rail
40 Amp Power Supply
Titanium 3KW Heater
1 x 5" White spa light (multicoloured lighting optional)
Bluetooth music system (optional)
Wi-Fi controls (optional)
24 Hour water circulation system
Filters 1 x Micron Filter + 1 x 50 sq. ft Filter
Advanced touchscreen control system
Water capacity 7571L
Weight (full and empty) 8659kg/1088kg
Available Semi-In-Ground Or Fully Above Ground
All about me
Build your own spa experience with this Tidalfit pro swim spa. With a unique quad swim jet system and two 2-horsepower swim pumps, providing a stronger swim current, so you can easily keep fit at home. Four seating positions give you plenty of room for a soak, and if you include the 34 individual hydrotherapy jets, you can have the best of both worlds, a swim spa and a hot tub. With multiple additional extras, you can create the ultimate garden pool experience.
Fitness at home
Challenge yourself with a vigorous swim without turning around or pushing off the sides. Why not switch things up and do some water walking, aqua aerobics or strength and resistance training. The grab rails are ideal for after your workout when you need to stretch. And, whether you're a beginner or an individual with Olympic goals, it's easy to adjust. It's good for recovery therapy, too, as the buoyancy of the water eases joint pressure. Why not take your training to the next level and add on one of the aquatic training system options.
Family friendly pool
The Tidalfit pro is ideal for all the family. At an impressive 15 feet in length, it's the perfect compromise for an indoor or outdoor pool. Teach your children to swim in a one-to-one environment in the comfort and privacy of their own home. Why not add some buoyancy aids and recreate a lazy river? It's easy to alternate between exercising, relaxing or having fun. You can enjoy it for longer, too, thanks to the built-in 24-hour circulation system that helps keep your water clean and clear. Plus, it can be relocated should you ever need to move home.
Innovative technology
With its sleek grandwood cabinet, a full foam insulated base with an ABS bottom that retains heat and a super deluxe lightweight cover suitable for all seasons, this spa is a quality build. Paired with advanced touchscreen controls, adjusting your swim spa features couldn't be easier. Plus, there's an abundance of optional tech extras you can add on, such as Bluetooth, Wi-Fi, multi-coloured lighting, and advanced water purification systems.
Enhance your wellbeing (optional extras)
The hydrotherapy system features 34 directional jets set within three contoured seats to target different muscle groups. Using heat and water to soothe your body and aid mental health, you're left feeling relaxed, revitalised, and de-stressed. The controls enable you to turn on your swim jets and adjust your hydrotherapy experience at the touch of a button.
Optional extras to improve your well-being and exercise journey are detailed below-
Hydrotherapy System | Includes 34 helix jets, 3HP single speed pump, Bellagiofall water feature
Dynabrite LED Lighting | Includes 12 x 2" lights and 1 x 5" light with multi-coloured lighting options - illuminates Bellagiofall (hydrotherapy system required)
Aquatic Training Options | Stationary resistant swim tether and/or Rowing bars & resistant cords
Stereo Options | Advanced Integrated Streaming Stereo System (AIS) (only available with VFSWT) & inc. 4x speakers; Bluetooth, WIFI, app streaming, internet, radio & sub-woofer | bba™ fully integrated Bluetooth audio system, 4 speakers' sub-woofer | Artesian music experience with Bluetooth receiver (no remote) | 2 x Additional cabinet speakers
Wi-Fi Options | Worldwide Wi-Fi app module
Water Purification Options | Ozonator | Crystal ProPure or Diamond AOP
Rock Cabinets | available if swim spa has been installed semi in ground only
Please note some upgrades are dependent on certain features, speak to a sales member for more information
FAQs
Can you swim properly in a swim spa?
Yes! The powerful jets in a swim spa create a constant current so you can swim on the spot, all in the comfort of your very own resistance pool! Swim spas are also perfect for teaching your kids how to swim in a safe and secure environment, as well as for maintaining stamina if you're an advanced swimmer. 

Is a swim spa as good as a hot tub?
A swim spa combines all the hydrotherapy, wellness and relaxation benefits of a hot tub, with the added luxury of a swimming pool - all at a fraction of the cost of a pool. 
How long do swim spas last?
Swim spas generally last up to 20 years with proper care and maintenance. They also have the added benefit of being portable, so you can take your pool with you if you move house! TidalFit are high quality swim spas, so you can rest assured you can enjoy hundreds of swims for years to come. 
Finish
Shell
Silver Marble
Cabinet
Grey
Charcoal Black
Video
How do I order?
Click 'buy now' above or complete a finance form if required 
We'll call you back to arrange a site survey, which are usually by phone or video call
We'll organise a delivery and installation date
On your delivery date, we'll install your swim spa and get it ready to use
Or, if you visit one of our showrooms, we'll organise everything there and then.