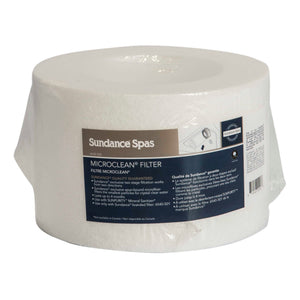 Sundance® Spas Microclean® 780 Series 50sq ft Disposable Hot Tub Filter - 6540-502S
Features we love
Spa disposable filter replacement for 50 sq. ft filtration space
Sundance® exclusive 2 stage filtration for crystal clear water
Microclean® design made from microfibre provides ultra fine water filtration
Removes scum such as hair, dust, leaves and more
Delivers safe, purified water & is resilient to chlorine
Lasts up to 4 months 
Need to know
Approved Sundance® Spas 780 Series Hot Tub Filter is a 50 sq ft filter. This filter works in conjunction with the 6540-501S (HTF0180) which can be purchased separately. This quality filter using Reemay has been tested and approved by Sundance® Spas for use in their branded hot tubs. The use of non-approved filters may void certain warranty claims.
Measures: 12.7cm x 20cm
Top Hole: 12cm
Bottom Hole: 12cm
Compatibility
Suitable for the Bahia, Caprio, Cayman, Metro, Palermo, Camden Certa, Chelsea, Hamilton, and Dover. 
Our Ref: HTFSDMC | Pleatco: SFS92  Sundance® Part No. 6540-502S.
FAQs
How does a hot tub filter work?
Water is pumped through the filter, and any debris gets caught in the filter's pleats. Hot tub filters work alongside chemicals and sanitisers to keep the hot tub water clean and healthy.