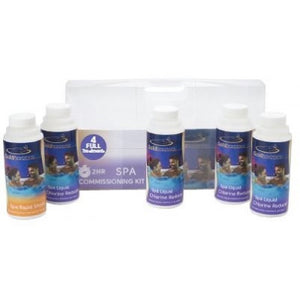 Gold Horizons Commercial Hot Tub Commissioning Kit - 2 Hour
Features we love
Leaves your commercial hot tub clean and clear
Contains everything you need for 4 full treatments
Hot tub is ready to use in just 2 hours
Reduces turnaround time
Minimises chlorine exposure
Meets HSG282 recommendations for commercial tubs
All about me
Gold Horizon's Commercial Spa Commissioning Kit is designed for use in commercial hot tubs in holiday lodges, hotels and more. This pack includes everything you need for four full treatments, including 1x 500g commissioning shock and 4x 500ml quick chlorine reducer liquid.
The shock is a powerful oxidiser that quickly eliminates any unwanted contaminants from your hot tub, leaving your water clean and clear. The quick chlorine reducer liquid helps to quickly and effectively lower the chlorine levels in your water, ensuring that your hot tubs are ready for use.
This kit is essential for ensuring that your commercial or holiday lodge hot tub is properly maintained and ready for use in as little as 2 hours, reducing the turnaround time. With the Commercial Spa Commissioning Kit, you can have peace of mind that your hot tub is safe and sanitary for all your guests.
Need to know 
1x 500g Commissioning Shock
4x 500ml Quick Chlorine Reducer Liquid
As stated in the HSG282 Guidelines the hot tub should be commissioned upon installation and again if stood empty for a period of time. The level of sanitiser should be sufficient to achieve a level of 50mg/l of free chlorine for a period of at least one hour, then reduced to a safe level before use.