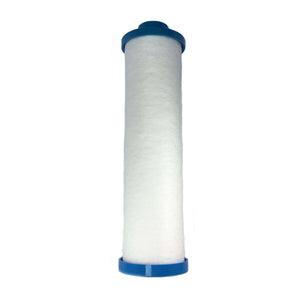 Hot Tub Pre-Filter with Hoselock Connection
Features we love
Spa pre-filter suitable for all hot tubs
Filters out debris from water in your hose for cleaner water
Ideal for hard water areas by removing scale, rust and minerals
Extends the life of your hot tub filter
Suitable for 4-6 refills on the average 1500L hot tub
Connects to most standard hoses with included hoselock connection
All about me
When you refill your hot tub, it's essential to keep water quality in mind. Regular garden hoses can host unwanted substances like scale, grit and rust. But don't worry, we've got a handy solution! Our pre-filter easily attaches to most standard hose connections to filter out those pesky bits of dirt, keeping your hot tub water crystal clear.
Pre-filtering not only removes debris that could harm your hot tub's surface, but reduces the need for chemicals, as well as extending the lifespan of your hot tub's filter, saving you time and money in the long run.
If you live in a hard water area, this pre-filter is your new best friend! One pre-filter is typically suited for 4-6 fills of your average 1500L hot tub. Get ready to enjoy your tub in pristine water to make the most of your relaxing soak!
FAQs
What is a spa pre-filter?
A pre-filter is used to remove larger particles and contaminants from your water source before it enters your hot tub's system, protecting it from visible impurities and potential damage, such as debris, scale, rust or sediment.
What is the difference between a pre-filter and a filter?
The biggest difference between a pre-filter and a filter is the size of contaminants they target, and their stages within the water treatment process. Pre-filters work at the entry point of the water on a hose, while filters work within your spa's systems.
Is a pre-filter necessary for a hot tub?
A pre-filter is not strictly necessary for a hot tub, but it can be highly beneficial. It helps remove larger impurities and contaminants from your hose, improving water quality, protecting the hot tub from potential damage, reducing the need for chemicals, and prolonging filter life. Whether you need one depends your local water quality and cleanliness of your hose, if you're in a hard water area, pre-filters are particularly helpful.
If you need more advice on keeping your filters clean, read our how to clean your hot tub filters guide.