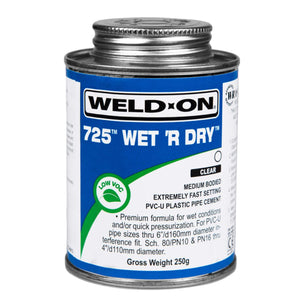 Weld On PVC-U Pipe Cement Glue - 250g
All about me
The Weld On PVC-U Pipe Cement Glue is a premium formula for wet conditions and/or quick pressurisation.
Need to know
For PVCD-I pipe sizes thru 6"/d160mm diameter interfate fit Sch. 80/PN10 & PN16 thu 4"/d110mm diameter.
The container is 250g and comes with a brush in the can.
Please note: This product is restricted to professional users.