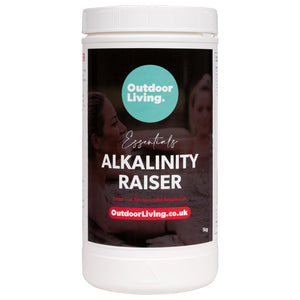 Hot Tub Total Alkalinity Increaser - 1kg | Outdoor Living
Features we love
Alkalinity Increaser for hot tubs, spas and more
Helps prevent damage to your hot tub or spa
Balanced Total Alkalinity helps control the pH level
Add straight to your tub for it to work right away
Contributes to keeping your spa in the best condition
All about me 
Maintaining the proper alkalinity levels in your hot tub is crucial for ensuring the longevity of your spa and the comfort of your soak. Low total alkalinity (TA) can cause your hot tub water to become corrosive and make it difficult to maintain a stable pH level.
To raise the TA in your hot tub, use our Outdoor Living Alkalinity Increaser. This product is designed to safely and effectively increase the alkalinity levels in your spa water, helping to balance the pH and prevent corrosion. Simply follow the instructions on the product packaging and add the recommended amount to your hot tub water.
By using a hot tub alkalinity raiser, you can enjoy a more comfortable and relaxing soak in your spa, knowing that your water is properly balanced and your hot tub is protected from corrosive damage. So don't wait, grab a bottle of hot tub alkalinity raiser and get your spa water back in balance!
Need to know
Please note: A Total Alkalinity level between 80-120mg/l (ppm) must be maintained in your hot tub/spa at all times. The addition of your Alkalinity Increaser will depend upon usage*.
*We advise to use test strips to test sanitiser levels, pH levels and Total Alkalinity (TA).
This product is supplied in 1kg.
How to use
Ensure any bathers are out of the hot tub or spa.
Test your water using a testing kit to determine if the Total Alkalinity level is above 80ppm; if not, add as per the dose on the pack according to what you need with the pump turned on. This will allow it to circulate evenly.
Leave for 10 minutes (so the chemicals can work) then retest, and if not within the desired range, raise in 10mg/l ppm increments and repeat until correct.
FAQs
How do I test TA levels in my hot tub?
We suggest using dip test strips to test the pH level, total alkalinity and sanitiser levels. They're easy to use and provide quick and accurate readings, so you can make the proper chemical adjustments if required.
How long do I have to wait after using total alkalinity in my hot tub?
We recommend waiting at least 2 hours after using TA before using your hot tub.
If you need more information about managing your hot tub's water, check out our balancing your hot tub's pH level and total alkalinity guide.