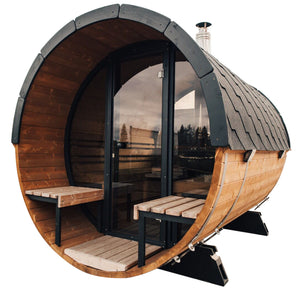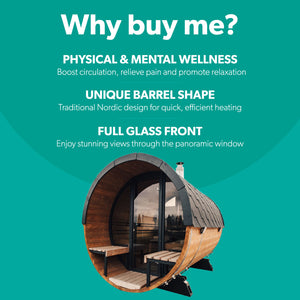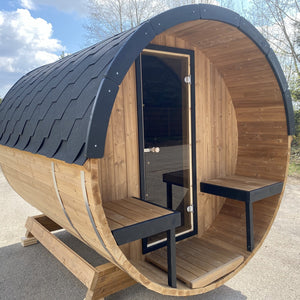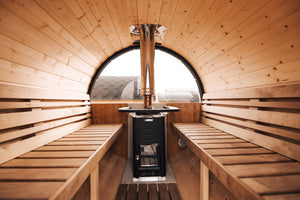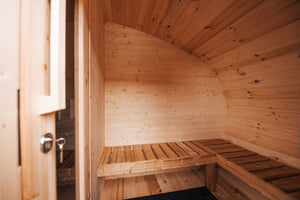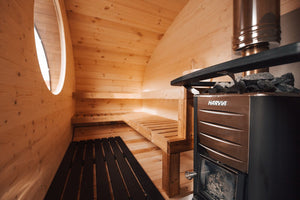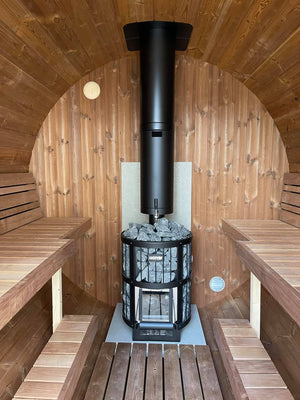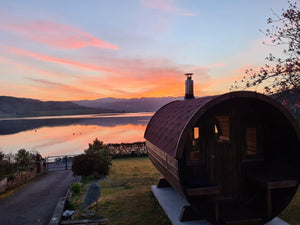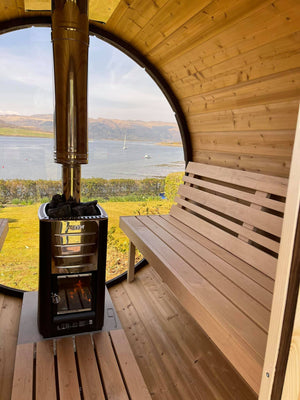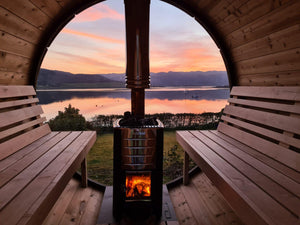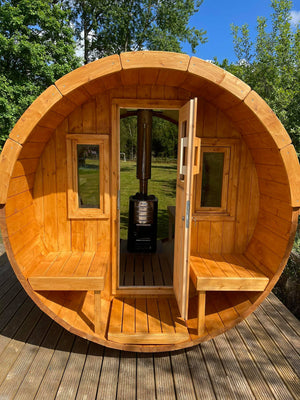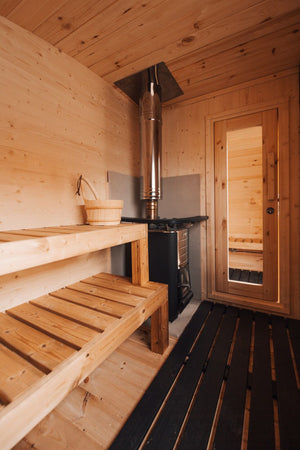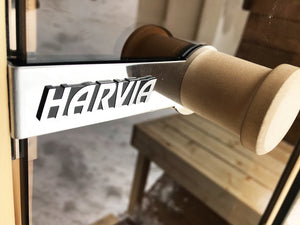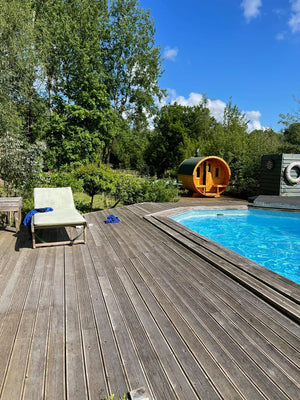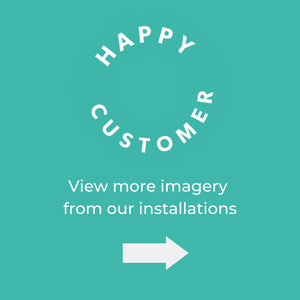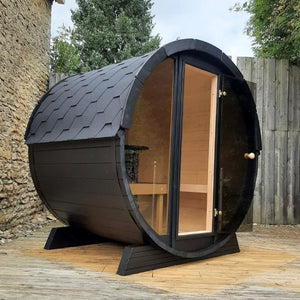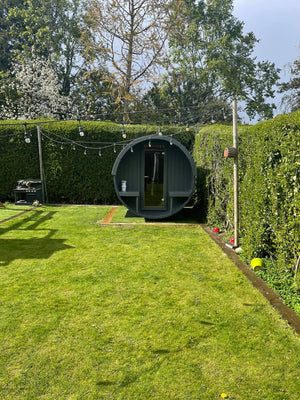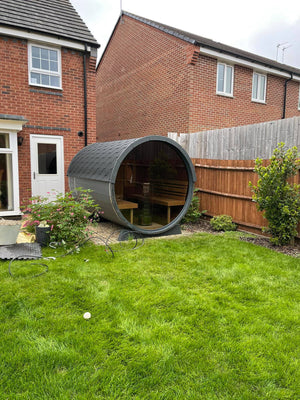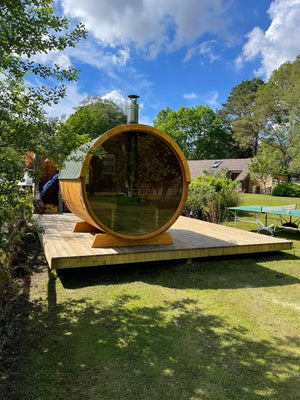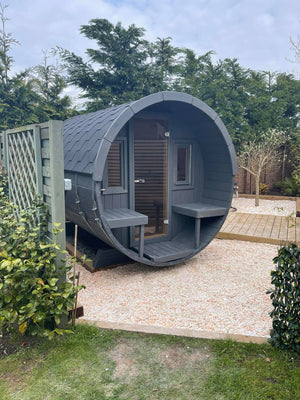 Outdoor Terrace 160 - 2 to 4 Person Barrel Sauna
Features we love
Traditional design and luxury feel
Includes beautiful Alder wood benches with room for 2 - 4 people
Fitted with a top quality 9kw Harvia heater
High quality wooden (Spruce) structure
Full panoramic glass front wall
Tech spec
Bench seating for 2 - 4 people
205cm x 160cm x 215cm
9kw Harvia heater including coals
Panoramic window
Black roof shingles
Spruce structure
Alder benches
Two stainless steel tightening straps to maintain the shape
Curved design naturally sheds rain and snow
All about me
The Terrace Sauna 160 is a stunning home sauna that's perfect for helping you to relax and rejuvenate. With its compact size, this garden sauna is perfect for any outdoor space - big or small, garden or terrace. It fits up to four people, so is ideal for a family or a few friends - or keep the space all to yourself! The glass makes the sauna experience unforgettable; for those who want privacy, but also for those who want to enjoy views in several directions.
The gentle warmth of saunas encourages the release of endorphins which helps with deeper sleep. Feel your circulation improve and muscles rejuvenate, whether you've had a tough workout or a hard day at work. If you suffer with arthritis or persistent pain, sauna heat can help provide relief. Dry or sensitive skin can also benefit from humidity, while some people find perspiration helps with a boosted metabolism, and a detoxified body to shed a few pounds. Sprinkle water onto the sauna stones for a refreshing burst of steam and extra humidity. Don't forget, moderation and hydration are key, if you have any health concerns or are pregnant, consulting a healthcare professional is a wise move. Get more advice in our guide to dry heat in saunas, and learn more about choosing the right sauna for your home or garden in our guide.
FAQs
How can saunas benefit my health? 
Saunas can improve your body and mind in a number of ways:
Relaxation - destress the body and mind
Circulation - increases blood flow
Detoxification - perspiration helps flush out toxins
Pain relief - soothes aching muscles and joints
Skin health - humidity benefits dry and sensitive skin
Weight loss - helps increase body's metabolism
Sleep - facilitates a deeper night's sleep
Social connectivity - peaceful space to relax with loved ones
Why choose a barrel sauna for my garden? 
Traditional barrel saunas have exterior benches so you can enjoy a drink or fresh air in between sauna rounds. Enjoy the highest level of comfort hand-in-hand with a compact design. Barrel saunas provide quick heating, efficient airflow, and a traditional Baltic aesthetic that naturally sheds water and snow for minimal maintenance.
Where can I install my sauna?
This sauna is designed to be used outdoors, and can be installed on a flat, solid base.
How do I order?
Click 'buy now' above or complete a finance form if required 
We'll call you back to arrange a site survey, which are usually by phone or video call
We'll organise a delivery date
Or, if you visit one of our showrooms, we'll organise everything there and then.